Product Description
ZONKIE Comfortable Men Women Bike Seat Wide Bicycle Saddle
EXTRA SOFT & COMFORTABLE BIKE SEAT - the best protection of the hip, make your spin class or cycling trip much more pleasant! DAWAY C10 comfy bike seat is padded by thickening widened high-density foam, with life waterproof PVC leather surface. Feel no pressure on private parts, relieve your back strain effectively, better protect your butt and spine
DUAL SPRINGS SUSPENSION - shock absorption, helps smooth out bumps, the best choice for long-distance riding! Moreover, this large bicycle seat has middle groove breathable design, ventilated, can reduce muggy feeling, keep buttock always cool & dry, good for private parts! Riding for long trips in comfort with DAWAY C10 big bicycle seat now
ERGONOMIC, RELAXED POSTURE - offers much comfort for the cyclist who enjoys leisure cycling! DAWAY C10 exercise bike seat is 10.6 x 8.7 x 3.5 inch(L x W x H), ergonomic design allows thighs moving freely in riding, won't rub thigh. Designed for men, women, boys, girls, seniors, kids, etc. Send this bicycle seat to your lover, families, friends or yourself as Xmas Thanksgiving or Birthday gift, enjoy a healthier and more comfortable ride
UNIVERSAL STANDARD RAILS MOUNTING SYSTEM - bike saddle adapter included! DAWAY C10 cushioned bike saddle can be installed on any standard seat post, dual-track or clamp tube. Good seat replacement for stationary bikes, spin bikes, indoor cycling bikes. And this bike saddle also can be used as road bike seat, mountain bike seat, beach cruiser saddle, city bike seat, hybrid bike seat, e-bike seat, electric bicycle seat, etc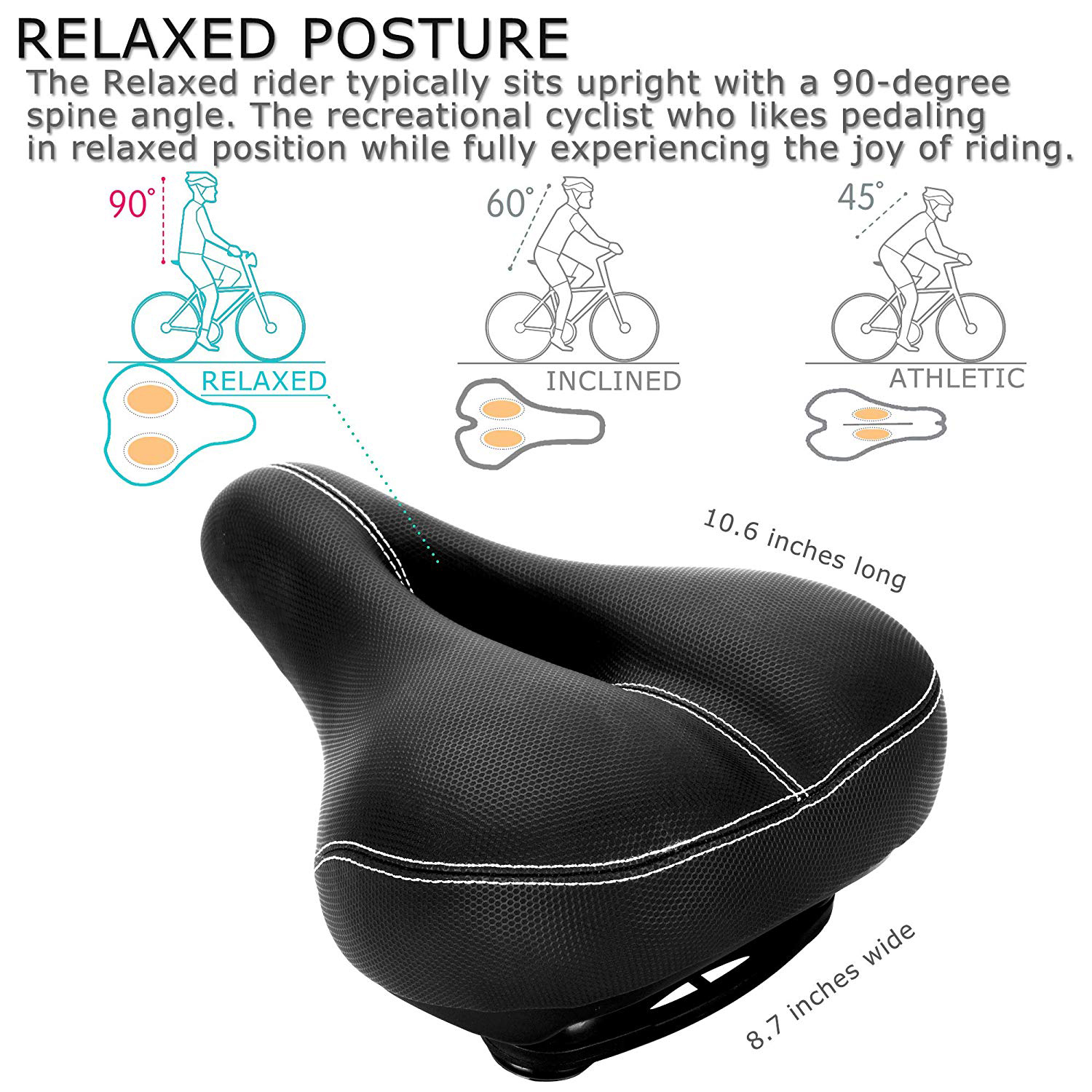 Features:
1. Padded by thicken widened high-density foam, with PVC outdoor leather surface, life waterproof. Feel comfortable, good elastic and very soft, better protect the buttocks and back. No worry about riding on rainy or snowy days.
2. With unique waterproof taillight, 3 lighting modes are available. Offer optimal visibility for safe night time riding, battery included.
3. Dual spring rubber ball suspension, Ergonomic and hollow breathable design, feel no pressure on private parts. Enjoy healthy and happy long-time riding!
4. Universal fit cruiser bikes, some comfort and hybrid bikes, city bikes, mountain bikes, foldable bikes, road bikes, etc. Easy to install or removed.