Product Description
ZONKIE MTB Bicycle Fork Stem Extender Handlebar Riser Bike Neck Extender Aluminium Alloy Stem Raiser
FUNCTIONAL GASKETS: The bicycle neck extender is equipped with 5 washers, each of which is 10mm and the height is increased to 100mm.
ADJUSTABLE: The height of the extender can be adjusted by adjusting the number and type of spacers, reducing the pressure of waist effectively, biking more relaxed. Take the discomfort away from your upper back, neck and wrist.
HIGH STRENGTH & EASY TO OPERATE:

The bicycle fork extender is made of refined 6061 aluminum alloy material. After T4 heat treatment + T6 heat treatment, the handlebar extender is stronger, more resistant to oxidation and corrosion, not easy to loose, and safer to use

.
EASY INSTALLATION & WIDELY COMPATIBLE: Just connect the original front fork to complete the installation. Our bicycle Fork Stem Extenders are suitable for most MTB mountain bikes, road bikes and more

CYCLING COMFORTABLY: Handling more flexible,much easier to force when climbing, lighter weight, comfortable and convenient to operate, effective bicycle fork extender.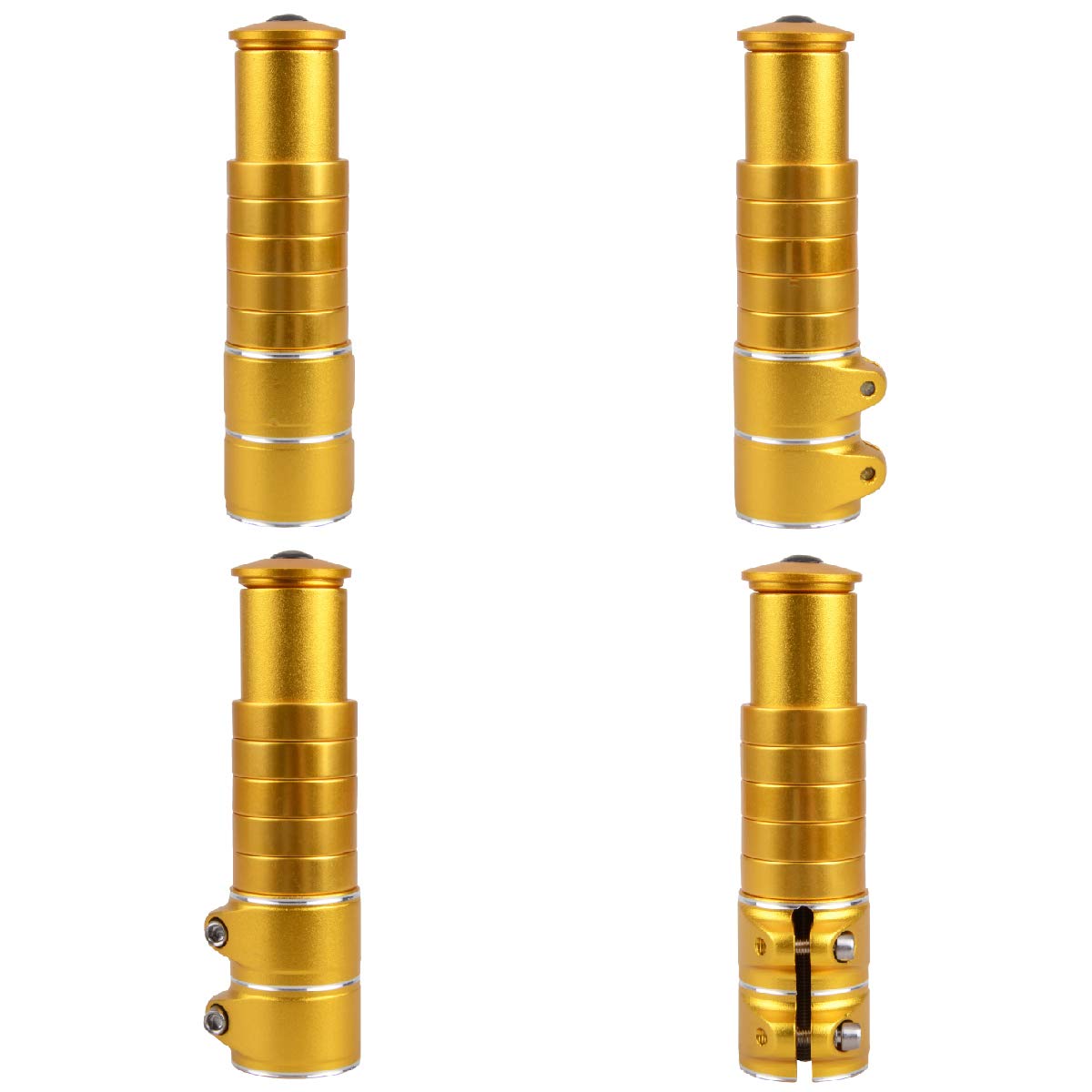 SPECIFICATIONS
Name:Handlebar Extender
Material:6061 Aluminum
Color:Red, Blue, Silver, Black, Gold
Application: Cross Bike, Road Bike, Mountain Bike etc.
KEY WORD - Adjustable Height ▎Ultrahigh Strength ▎Light Weight ▎Easy Installation
INSTALLATION STEPS
Remove the cover of original handlebar.

Remove the bicycle handlebar stand.

Install the bike fork stem extender, then adjust the position and fix the adjustment screw.

According to the height you need to increase some gaskets.

Install the handlebars stand and fixed the screws on the stand.

Finally, install the cover of the bike fork stem extender.